From 19 to 26 January 2017, the "Centre for Applied Sciences" conducted a survey of expert opinions in the government-controlled part of the Donetsk and Luhansk regions. With a help of the Delphi method, 89 people were interviewed – representatives of government bodies, business circles, educators and public activists in the city of Mariupol, Kramatorsk and Severodonetsk.
Evaluation of the priority problems of the city / region (on a scale from 1 to 10)
The survey participants, determining the severity of some social problems at the regional level, placed prioriies as follows (from the most urgent problem to less important):
Hostilities in Donbas, relations with Russia – 731
Corruption – 641
Decrease of production level – 640
Rise of utility tariffs – 620
Slow progress of reforms – 579
Unemployment – 572
Political instability – 558
Destruction of infrastructure – 531
Inflation – 529
Crime – 433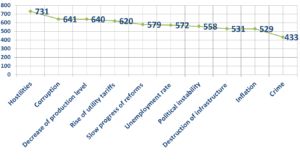 Apart of this the respondents mentioned such specific issues as impunity for officials in case of offenses; low social activity of the population; poor informing of society; ecological situation; migration – departure of population of the region; identity crisis; uncertainty about the future; lack of investments; fiscal burden on business; instability of tax legislation.
Do you feel safe in your own city?
We asked about situation in the home location and 56 persons (61.5%) said they feel safe. Instead, 35 people (38.5%) said they do not have this feeling.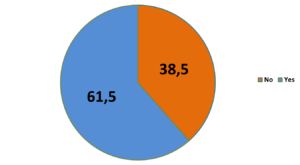 What are the priorities for Donbas restoration?
The next priorities were pointed in an open question:
Restoration of infrastructure of the region – 31 votes;
Development of the economy and manufacture – 21 votes;
Reconstruction of social facilities (hospitals, schools, etc.) – 19 votes;
Restoration of the territorial integrity of Ukraine, the end of hostilities, peace and security – 16 votes;
Effective management, implementation of reforms, fight against corruption – 9 votes
Job creation – 7 votes
Support for small and medium business middle class – 7 votes
Rebranding of image of the region and the country, the introduction of European values and consciousness – 6 votes;
Establishing of dialogue among the population of the region – 5 votes;
Construction of housing – 5 votes;
Consensus between government and society – 3 votes;
Change of elites in Ukraine and in the Russian Federation – 3 votes;
Providing of stability – 3 votes;
Penalties for separatists – 2 votes;
Solution of environmental problems – 2 votes;
Introduction of innovations – 1 vote.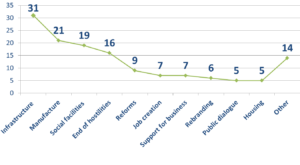 What are the priorities in EU-Ukraine relations?
Determining the priority areas of relations between Ukraine and the European Union, respondents named the following:
Trade and free markets – 42 votes;
Economic reforms – 14 votes;
Visa-free travel – 12 votes;
Investments – 11 votes;
Foreign advisers – 11 votes;
Innovative technologies – 10 votes;
European values, trust – 8 votes;
Culture – 7 votes;
Standards of life – 6 votes;
Education – 6 votes;
Security – 4 votes;
Control – 4 votes;
Exchange of personnel – 3 votes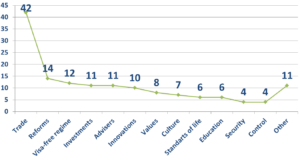 Do you feel support of European Union in the conflict in Donbas?
Assessing assistance from the EU, 62 respondents (69.7%) said they feel support from the European Union in the settlement of the conflict. Instead, 27 respondents (30.3%) answered negatively to this question.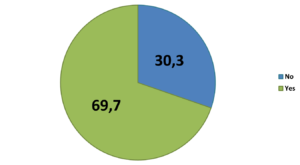 In what extent preserving of economic ties with Russia
 are important for Donbas?
 A point of view that the Russian market and trade partners are "important" for the development of the region became the most popular answer to the question about the preservation of economic relations with Russia (37 respondents – 43.5%). The opposite point of view expressed by 28 persons (32.9%). "Does not matter" opinion  was considered by 14 persons (16.5%); instead of "very important" – only 6 people (7.1%).
Thus "for" and "against" opinions about saving economic bonds are shared by the same number of people – 43 and 42 respectively (50.6% and 49.4%). However, among the opponents of cooperation with Russia twice more people who clearly define their position.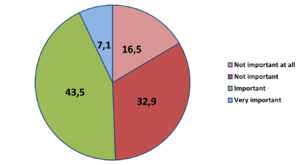 Evaluation of corruption level in region (On a scale from 1 to 10)
Assessing the level of corruption at the regional level, the respondents revealed that this is a very urgent problem. At "ten" it was rated by 26 persons (29.2%), "nine" – 7 persons (7.9%), "eight" – 16 people (18%), "seven" – 12 people (13.5%), "six" – 10 persons (11.2%). It is considered insignificant by much smaller number of people: at "five" this problem rated by 8 people (9%), "four" – 3 persons (3.4%), "three" – 4 persons (4.5%), "two" – 2 persons (2.2%), "one" – 1 person (1.1%).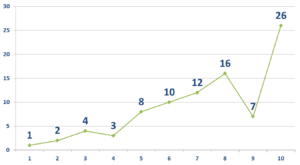 What sources do you use to get information about European integration of Ukraine?
As a source of information about European integration, respondents frequently named official and news sites in Internet (62  persons), mass media – both domestic (29 persons) and foreign (8 persons) also very popular; social networks (14 persons); TV (12 persons); personal communication, including friends in Europe and informed officials in charge and experts (11 people); participation in the work specialized platforms, used to discuss related issues (11 people). Some respondents named their business and professional activities as a source of information, personal experience (4 people); official documents (3 persons); participation in international programs (1 person); learning process at the university (1 person); other (3 people).
As certain credible media were named DW, BBC, EuroNews, online edition of "European Pravda", newspaper "Voice of Ukraine", TV program "Made in Europe" of Luhansk regional TV channel "LOT".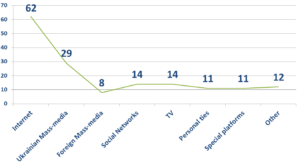 Report prepared by Mykola Zamikula – analyst