On October 30, 2018, the results of the second wave of the all-Ukrainian sociological survey "3D-profiles of the presidential election participants-2019" were presented in the press-center of the Interfax-Ukraine News Agency, with the new ratings of the presidential candidates in Ukraine.
Full video of sociological research presentation.
The survey, conducted by the Centre for Applied Research, a sociological company, was carried out to meet the scientific and public interest and was funded at its own expense by the analytical center "Power Matters".
Parameters of all-Ukrainian sociological survey:
Sample: all Ukraine, except Crimea and the occupied part of the Donbas (2,100 respondents).
Standardized face-to-face interviews, with an average duration of 15 minutes.
The statistical error is within 3%.
Period of study: October 1-12, 2018.
Rating of presidential candidates in 2019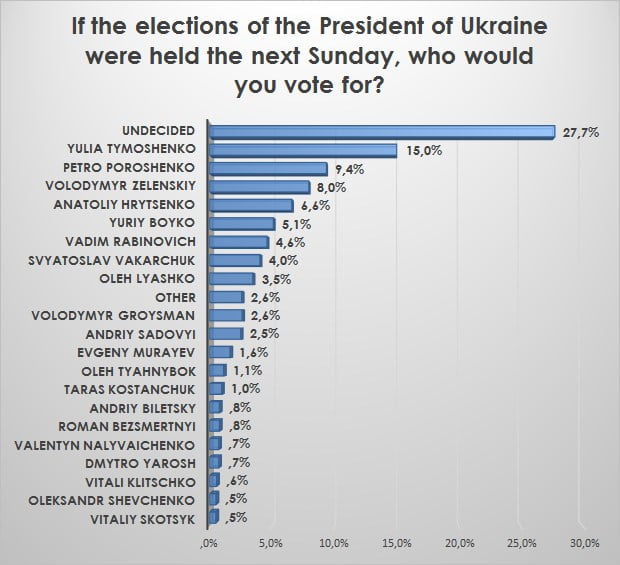 According to the results of the all-Ukrainian poll, the leader of the "Batkyvshchyna" Yulia Tymoshenko has the highest rating among the presidential candidates – 15% (the rating increase is almost twice as much as the first wave).
In the second place, the acting head of state Petro Poroshenko – 9.4%. In the third place, the actor and head of the creative group of the "Quarter 95" Volodymyr Zelenskiy – 8%.
Anatoliy Hrytsenko lost almost 1.5% and now would receive 6.6% of the vote. Support of the singer Svyatoslav Vakarchuk also decreased – from 4.6% to 4%.
The combined rating of Yuriy Boyko and Vadim Rabinovich is almost 10% (5.1% and 4.6% respectively), and in the case of nominating a single candidate, they can compete for the second round.
Among candidates who have only recently begun appearing in presidential ratings – 1.6% of support is for Evgeny Murayev, 1% – for Taras Kostanchuk and 0.8% – for Roman Bezsmertny.
Comparison of presidential ratings of the first and second wave of the survey
If the elections of the President of Ukraine were held the next Sunday, who would you vote for?
Variants
May 25 – June 5 2018
October 1-12 2018
Undecided
38,5%
27,7%
Yulia Tymoshenko
8,6%
15%
Anatoliy Hrytsenko
8,2%
6,6%
Petro Poroshenko
7,3%
9,4%
Volodymyr Zelenskiy
6,1%
8%
Other
5,8%
2,6%
Svyatoslav Vakarchuk
4,6%
4%
Volodymyr Groysman
4,2%
2,6%
Yuriy Boyko
3,4%
5,1%
Vadim Rabinovich
3,3%
4,6%
Oleh Lyashko
3,3%
3,5%
Oleh Tyahnybok
2,4%
1,1%
Nadiya Savchenko
2%
–
Andriy Biletsky
1,2%
0,8%
Andriy Kobolyev
1,1%
–
Andriy Sadovyi
–
2,5%
Evgeny Murayev
–
1,6%
Taras Kostanchuk
–
1%
Roman Bezsmertnyi
–
0,8%
Valentyn Nalyvaichenko
–
0,7%
Dmytro Yarosh
–
0,7%
Vitali Klitschko
–
0,6%
Oleksandr Shevchenko
–
0,5%
Vitaliy Skotsyk
–
0,5%